Today I visited Cardiff National museum, from the 8th April – 3rd March there is an exhibition celebrating the works of abstract artist Gillian Ayres. The show presents some of Ayres more privet works and more well-known pieces as a pinoneer of abstract expressionism. The exhibition focuses on her relationship with Wales through her career as a painter from the 1950s to the 1080s.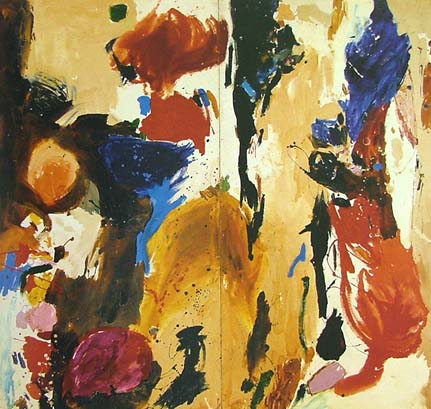 "Across this period Ayres was a regular visitor to Wales and her experience of the mountains of Wales had a powerful influence on her expression of the 'abstract sublime'. This connection to Wales was strengthened when Ayres lived and worked on the Llŷn Peninsula between 1981 and 1987. This period coincided with a particularly productive phase in her career which will be explored in this exhibition." 

Cardiff National Museum
Her technique whilst painting includes pouring paint on canvas straight from the tube, scraping and mixing colours and generally using paint in a liberal manner. This expressive exploration of colour and space is widely recognisable in her large-scale abstract paintings.
I decided to add her as a reference for my own work because even though our styles differ as my own is a lot more controlled, there are similarities in her use of colour being vibrant and abstracted and the shapes she paints. I also wanted to include this reference because Ayres responds to her feelings and emotions associated with place through her strong use of paint onto the canvas. As you start to depict Ayres large-scale abstract paintings you can see suggestive forms which could be more figurative natural forms, such as flowers and organic shapes like circles. Ayres titles her paintings after they are finished, this allows her to fully understand what she is painting before having any biased opinion when she starts.
Some sneaky photos I managed to take at the exhibition;
her use of studio/ground work done prior to creating a painting has similarities with my ground work made at the start of my project, she makes sketches out of oil pastels and also does collages which outline the shape.
the paintings are a reference for my own use of colour and expressive use of paint.